Your decisions, individual or collective, drive performance. The ability to make excellent decision-making a habit at an individual and collective level is the cornerstone of success in all aspects of business and life. Systems are made up of people; therefore, if people have excellent decision-making skills, systems benefit and become more effective. Research indicates that an increase in the quality and speed of individual and collective decisions directly improves performance, including revenue growth. Sound decision-making is therefore a critical requirement for success.
Eric Larson, a U.S. expert in decision practices, points out that managers make about three billion decisions each year, and almost all of them can be improved. He cites a three-month study of 100 managers which found that managers who made decisions based on best practices achieved their expected results 90% of the time. By comparison simple goal-setting practices helped managers achieve expected results only 30% of the time.
It is vital to make excellent individual decision-making a habit. Larson quotes a study of 500 managers and executives which found that only 2% of managers consistently apply best practices when making decisions, and that few companies have systems in place to measure and improve decision-making over time.
MAKE DECISION-MAKING A HABIT
Do you know how you make decisions? Is it a formal process or do you make it up intuitively as you proceed? If you stop and think about it, you probably don't know. Consequently, we sometimes fall into common decision-making pitfalls: we make sub-optimal decisions because we are biased, we don't consider all the options or a myriad of other decision-making pitfalls.
Consider the graph below, which explains the stages involved in forming a habit.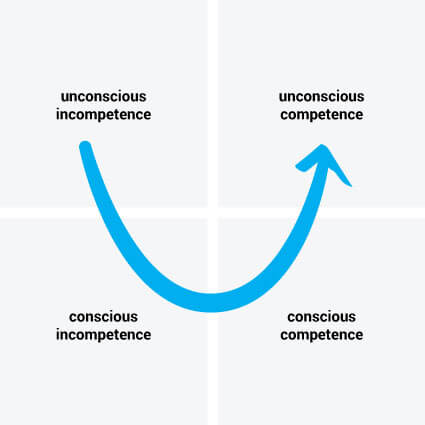 As leaders we don't always know that we are making sub-optimal decisions. We are unconsciously incompetent in that we don't know which skills we lack. The role of the organisation and its leaders is to take people from unconscious incompetence into unconscious competence, where constant, conscious practice turns effective decision-making habits into instinctive competence, or 'flow'. Embedding a planning tool throughout your organisation will enable this shift. This immersion in an agile and effective decision-making process builds toward the 10,000 hours required to reach unconscious competence.
There is no doubt embedding excellent decision-making habits makes good business sense. Sound decision-making cascades throughout the organisation, fosters consistency, breeds success and improves revenue and profits.
Larson, E. 2016. "A Checklist for Making Faster, Better Decisions"
Grunberg, M. 2017. "Habit and Skill Development: The Four Stages of Competence"